Beauty & Self
Books & Music
Career
Computers
Education
Family
Food & Wine
Health & Fitness
Hobbies & Crafts
Home & Garden
Money
News & Politics
Relationships
Religion & Spirituality
Sports
Travel & Culture
TV & Movies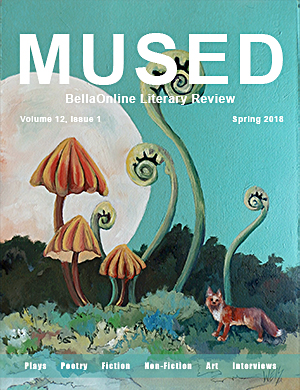 It can seem sometimes as if our world is whirling faster than we can keep up with. It can become overwhelming. Exhausting.

A balm which rejuvenates is to explore the creative efforts of individuals around us. To begin, turn off the noise and clatter of the world at large. Take a deep breath and instead focus on connecting with one fellow human being who presents their jewel of a thought to you. Examine it mindfully. Consider its meaning. Soak in the moment with this one human. Then connect with another. And another.

Enjoy the Mused Spring Equinox 2018 Issue



Who Whispers in Your Ear ?
Christian Living - Lynne Chapman, Editor

Who do you listen to? Is is the father of lies or the Creator of the Universe?




The Civilian Conservation Corps in Florida
Florida - Georgiana Kurtz, Editor

The Civilian Conservation Corps (CCC) was created during President Franklin D. Roosevelt's first term when the U.S. economy was suffering in the Great Depression. Its purpose was to put unemployed men to work doing manual labor restoring natural resources. There were 86 CCC camps in Florida.




Trifetta and Tricolore Garden Ornamental Peppers
Landscaping - Connie Krochmal, Editor

Trifetta, Purple Flash, and Tricolore Garda are all wonderful ornamental peppers for the home garden.




INTERVIEW 2 Liisa Evastina
SF/Fantasy Books - Evelyn Rainey, Editor

Second of two interviews with actress, producer, and writer Liisa Evastina.




How to Clean Glass & Mirrors
Cleaning - Tammy Judd, Editor

How to clean glass and mirrors - get some tips and tricks to use for your next cleaning adventure




Sewing Room Budget Organizing
Sewing - Cheryl Ellex, Editor

A designated sewing room or a space in a room dedicated exclusively to sewing is one of life's pleasures to those who sew. Along with this treasured space comes the task of keeping all things related to sewing tidy and accessible to allow for inspiration, creativity and productive sewing efforts.


| Google+ |
E D I T O R R E C O M M E N D E D
Low Carb - First Two Weeks


Get instant access to step by step instructions, handy tips to get you through the rough spots, background information on low carb dieting, and more.
Buddha´s Daughters


Buddha´s Daughters: Teachings from Women Who are Shaping Buddhism in the West is a collection of teachings compiled and edited by Andrea Miller, a writer and editor at the popular Buddhist magazine Shambhala Sun. It includes beautiful teachings from some of the most prominent women teachers in the West, including Lama Tsultrim Allione, Sharon Salzberg, Tara Brach, Pema Chodron, and more.
The Simple Way to Invest Successfully


Does investing seem too complex? Are you confused about how to invest successfully? Many people fail to invest well because they make money issues too complex. Many others never get started investing because they don´t understand the basics of stocks, bonds, and mutual funds. Investing doesn´t have to be difficult.