Beauty & Self
Books & Music
Career
Computers
Education
Family
Food & Wine
Health & Fitness
Hobbies & Crafts
Home & Garden
Money
News & Politics
Relationships
Religion & Spirituality
Sports
Travel & Culture
TV & Movies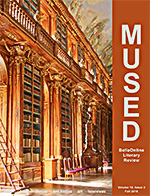 The autumn equinox, that balance point of light and dark, is closely tied to the moon. In China the Moon Festival happens around the autumn equinox, celebrating gratitude and the warmth of good friends and family. This year it was Sept 15th. Our last eclipse of 2016 was a penumbral lunar eclipse on Sept 16th. It fell in conjunction with the full harvest moon, also a symbol of thankfulness and appreciating those who care about you. The autumn equinox is a perfect time to add to those celebrations. It's a wonderful moment to treasure all we have and to share warmth with those who support us.

Autumn Equinox 2016 issue of Mused

College First Semester Pain and ADD
Attention Deficit Disorder - Connie Mistler Davidson, Editor

While college freshmen with Attention Deficit Disorder start their first year full of energy and hope, by mid-semester they are often bogged down in the abyss of academic struggles. Are they there to stay? Can they dig out? What can be done to salvage the academic semester?




Stuff Every Cook Should Know Book Review
Quick Cooking - Karen Hancock, Editor

Everyone wants to save time in the kitchen, and this little book has enough hints and hows to insure everyone's kitchen experiences are productive. There is good information for all cooks from beginners to advanced.




Cleaning to Prevent Sickness
Cleaning - Tammy Judd, Editor

When everyone around you is calling in sick, try these tactics to keep from falling victim to the flu or seasonal cold!




Halloween Safety Ideas
Body Care - BB Lee, Editor

Here are several easy to follow safety tips for kids and adults on Halloween.




Slow Cooker Halloween Pudding Recipe
Desserts - Karen Hancock, Editor

While fresh ingredients are always best, this pudding is a good way to use up stale ingredients that have been lost somewhere in the far reaches of your pantry. It's quick, easy, and cheap.




Holiday Ornaments to Sew
Sewing - Cheryl Ellex, Editor

The simple beauty and homespun warmth of holiday ornaments lovingly made bring many a smile to all who have ever gazed on an old-fashioned decorated Christmas tree. Simple sewn ornaments bring elegance to the time-honored tradition of decorating a pine tree brought indoors for seasonal goodwill.


| Google+ |
E D I T O R R E C O M M E N D E D
Spectorsoft EBlaster 6.0 Security and Monitor Soft


Installed in less than five minutes the eblaster software monitors the online activity of children. Providing email alerts to the designated email whenever a child receives or sends an email. Also, allows monitoring of chat rooms, key strokes, and instant messages. See who is talking to your child online.
Heart Strings - cozy mystery


She's certain she knows who the killer is, but will she be brave enough to confront the murderer for the scoop of a lifetime? This quirky cozy mystery is sure to keep you entertained and guessing to the last page.