Beauty & Self
Books & Music
Career
Computers
Education
Family
Food & Wine
Health & Fitness
Hobbies & Crafts
Home & Garden
Money
News & Politics
Relationships
Religion & Spirituality
Sports
Travel & Culture
TV & Movies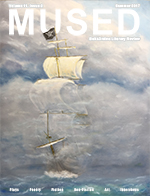 Our time on this Earth is fleeting and precious. We often know that in a vague, intellectual sense, and yet we can find ourselves whittling away those finite minutes without mindful thought. We should celebrate the beauty in a child's smile. The radiant sound of saying "I love you" to that special person. The warm touch of a hand. The delicate scent of a wildflower.

Enjoy the Mused Summer Solstice 2017 Issue



BEE Free Online Email Editor
Digital Art and Design - Diane Cipollo, Editor

In this article, we will continue to discuss the different options for creating responsive HTML email messages. We will talk about BEE Free, a free drag and drop online email editor for designing your own newsletter template.




Craft Fair Projects to Sew
Sewing - Cheryl Ellex, Editor

The beginnings of autumn bring many delightful craft fairs. Whether church, senior center, or high school supported, craft fairs offer an easy going shopping spree filled with creative homemade gifts, ingenious designs from easy to find local materials and textiles and plenty of seasonal home décor.




How to Fake Full Lips
Cosmetics - Katrina Simmons, Editor

Many women desire the look of full lips. Dangerous challenges and practices have popped up in effort to achieve the look. Lip fillers have become increasingly popular among those in the beauty industry and on social media. Learn a few tricks on how to fake it without the time and expense of fillers.




Greenwich - Peter Harrison Planetarium
Astronomy - Mona Evans, Editor

Christopher Wren designed the Greenwich Royal Observatory in 1675. Two centuries later the Prime Meridian of the world, 0° of longitude, was established there. Besides its historical interest, the site is a leader in bringing astronomy to the public, in part through the Peter Harrison Planetarium.




Teachers Mentors and Purblind Politicians
School Reform - Maeve Maddox, Editor

Vocational education deserves more respect in public education, but it should not be viewed as "more important" than the academic skills associated with what some politicians refer to as "traditional" education, as if they were opposites. In the twenty-first century, "book learning" is for everyone




Dresden Germany – The Renaissance Reborn
Luxury Travel - Barbara Radcliffe Rogers, Editor

Augustus the Strong, who ruled Saxony in the 16th century, dreamed of making Dresden a "Venice on the Elbe" and set about creating a cultural center of lavish palaces and riverside prospects.


| Google+ |
E D I T O R R E C O M M E N D E D
Fall in Love With Your Feminine Power


This 8-week DailyOm online course incorporates meditation, energy healing, and women´s energetics work to help you heal, empower and awaken your connection to your feminine energy body. It includes print materials, video, and guided audio meditation. No prior meditation or energy work experience necessary. Embrace your full power, health, joy, and spirit!
Golf Rules Illustrated


Beginning golfers should have this book as they learn the game of golf and experienced golfers should refer often for reference. Knowing the proper etiquette with help you enjoy the game. Published by the United States Golf Association.
How to Write Descriptions of Eyes and Faces


by Val Kovalin, your BellaOnline editor for the Fiction Writing site. Learn to describe the appearance of the eyes, actions involving the eyes, and how to describe eyelids, eyebrows, and eyelashes. More than 2,000 words explaining 82 color names to assign to eyes. Facial shapes, forehead, ears, cheekbones, nose, lips, chin, and facial hair. Learn how the face shows different emotions, and more!