Beauty & Self
Books & Music
Career
Computers
Education
Family
Food & Wine
Health & Fitness
Hobbies & Crafts
Home & Garden
Money
News & Politics
Relationships
Religion & Spirituality
Sports
Travel & Culture
TV & Movies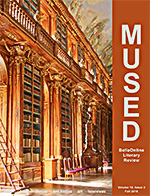 The autumn equinox, that balance point of light and dark, is closely tied to the moon. In China the Moon Festival happens around the autumn equinox, celebrating gratitude and the warmth of good friends and family. This year it was Sept 15th. Our last eclipse of 2016 was a penumbral lunar eclipse on Sept 16th. It fell in conjunction with the full harvest moon, also a symbol of thankfulness and appreciating those who care about you. The autumn equinox is a perfect time to add to those celebrations. It's a wonderful moment to treasure all we have and to share warmth with those who support us.

Autumn Equinox 2016 issue of Mused

The Crossing Book Review
Suspense / Thriller Books - Karen Hancock, Editor

Even though Harry Bosch is retired, his skills are in demand. This time, he crosses the line to work against the prosecution and help his half-brother, Mickey Haller, in the defense of a former gang member who has been framed for the brutal murder of a woman.




Finding the Perfect Winter Coat
Women's Fashion - LaTeisha Clément, Editor

A girl has only one thing to do when winter is approaching and her closet is full of not so warm clothing options: Shop for the perfect winter coat that will compliment her wardrobe and the wind chill factor.




Tatted Leaf Forms
Tatting - Georgia Seitz, Editor

Perhaps the most common type of tatted leaf pattern is the tatted cluny leaf aka petal or tallie and the cloverleaf.




Men and Chicken Film Review
Drama Movies - Angela K. Peterson, Editor

Filmmaker Anders Thomas Jensen explores the meaning of family, employing his singular blend of shocking dark comedy and deeply affecting drama.




Yoga For Paddlers
Yoga - Korie Beth Brown, Editor

Paddle sports such as kayaking and canoeing require a strong yet supple core. Here are some ideas for using yoga to improve one's paddling.




A Few Good Reasons to Knit Socks
Knitting - Korie Beth Brown, Ph.D., Editor

Why would anyone knit an item that costs only a few dollars at Target? Well, knitters have good reasons!


| Google+ |
E D I T O R R E C O M M E N D E D
Speekee


Speekee, Spanish for children. Simply... ˇFantástico! I found Speekee materials [DVDs, audio CD, parent guide] very complete, easy to use, and the method followed to teach Spanish to young children is effective from the very beginning. By Angeles Fernández Get the offer! Type in BELLAONLINE and get the SPEEKEE discount!
Life Extension Mega Green Tea Extract


Green Tea, or Camellia Sinensis, has been a hot news topic in recent years. Green tea is a main staple consumed by Asian populations for thousands of years and is purported to have numerous beneficial effects on health - one of them being weight loss.
Jesus of Nazareth


Award winning film produced by Franco Zeffirelli, depicts the life of Jesus Christ from birth to resurrection. Originally made for television in 1977, this set is available on DVD or VHS. It´s been a few years since I last watched this awesome depiction of Christ´s life, but it still remains one of my favorite.