Beauty & Self
Books & Music
Career
Computers
Education
Family
Food & Wine
Health & Fitness
Hobbies & Crafts
Home & Garden
Money
News & Politics
Relationships
Religion & Spirituality
Sports
Travel & Culture
TV & Movies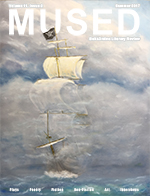 Our time on this Earth is fleeting and precious. We often know that in a vague, intellectual sense, and yet we can find ourselves whittling away those finite minutes without mindful thought. We should celebrate the beauty in a child's smile. The radiant sound of saying "I love you" to that special person. The warm touch of a hand. The delicate scent of a wildflower.

Enjoy the Mused Summer Solstice 2017 Issue



Long-Acting Stimulant Meds for ADD
Attention Deficit Disorder - Connie Mistler Davidson, Editor

This week the news brought word of two new long-acting, stimulant medications approved by The US Food and Drug Administration (FDA) for Attention Deficit Disorder. One, Contempla, is aimed at children aged 6-17 years old. The other, Mydayis, was approved for ages 13-years old to adults.




Herbal Magick- Lavender
Pagan - Ian Edwards, Editor

Learn how to use Lavender in magick and potions.




Some Recommended Walnut Varieties
Landscaping - Connie Krochmal, Editor

A number of walnut tree varieties are available. Here are some recommended varieties.




Project Tutorial - Watercolor Wash in Rebelle
Digital Art and Design - Diane Cipollo, Editor

In this tutorial, we will create a watercolor gradient wash that will be a background for an Instagram social media graphic. We will learn how to use the Watercolor, Blend and Water tools and the wet on wet technique.




Happy Stamp Collectors
Stamps - Gary Eggleston, Editor

Philately, or the study of stamps, is a huge field of study that has captured the attention of many Americans over the years. This fascination with stamps and the history that surrounds them has led to a hobby related to philately, which is collecting stamps.




Collecting U.S. Coins
Coin Collecting - Gary Eggleston, Editor

Some people are born to love money; whether they spend it or just collect it, they are simply born to love the way money provides them the kind of gratification that they need.


| Google+ |
E D I T O R R E C O M M E N D E D
The Weiser Field Guide to Cryptozoology


The Weiser Field Guide to Cryptozoology by Deena West Budd includes information, interviews, and stories about forty different cryptids seen in various places all over the world by credible eyewitnesses like policemen, rangers, and doctors. Readers will learn where and how to find flying humanoids, hairy humanoids, giants of all kinds including rabbits, bats and spiders, goblins, and vampires.
Paradise in Plain Sight


Paradise in Plain Sight: Lessons from a Zen Garden by Zen Priest Karen Maezen Miller, is both memoir and Zen guide. Maezen Miller shares experiences repairing and tending a historical Japanese garden in her own backyard, guiding the reader towards direct insight. It is beautifully written, honest, and relevant to the modern seeker of any faith.
The 500 World´s Greatest Golf Holes


This is a great coffee table book with photos and narrative describing some of the best golf holes in the world. Makes a great start for your bucket list of golf courses to visit. Published by Golf Magazine.